The sleepy town of Alibaug, with its saline waters, moist air, and undisturbed silence has always stood in stark contrast to Mumbai's constant cacophony. Even though it's now only a ferry ride away, the two places are poles apart and the thought of ever having to live in Alibaug often scares me.
But anyone who has grown up in and around Mumbai knows that Alibaug's quiet charm is accompanied by the rich heritage and culture that thrives in several pockets of the small coastal town. Whether it's the lesser-known Bene Israeli community that represents the rich history of the town or the 'Mango House' which is an incredible feat of sustainable architecture, Alibaug, even though it's so religiously visited by many, continues to harbour secrets that very few of us know about.
Spending 48 hours in Alibaug, eating and drinking the best of whatever the town has to offer, basking in the warmth of the winter sun, and walking into the ocean as many times as you want can be as exciting and adventurous as you want it to be. And if not, it's always a great location to just unwind and let go of all the stress and worry!
Day 1
Morning
I. Breakfast By The Bay At Kiki's Cafe & Deli
Where: Mandwa Jetty, Mandwa, Alibaug
Overlooking the sea with the sound of waves and a rich breakfast spread to give you company - now that's how you should begin your day. And Kiki's Cafe & Deli makes that possible. Bicycles suspended from the ceiling, quirky illustrations all over the wall, and vibrant colours make up Kiki's beautiful aesthetic. Try their Paneer Akoori that is served with an in-house bread and goes perfectly with the Vietnamese Iced Coffee. Situated at a 5-minute walk from the port, Kiki's serves everything from thin-crust pizzas and sandwiches to homemade ice creams and other desserts.
It's also possible you're going to find it difficult to tear your eyes away from the gorgeous view!
Cost: INR 950 for two people.
II. Artefacts And More At Dashrat Patel Museum
Where: Alibag - Revas Rd, Bamansure
Dedicated to Dashrath Patel, the founding secretary of the National Institute of Design, Ahmedabad, this museum exhibits the prolific work and life of the artist. From his photography to ceramic pottery and paintings, the museum is an ode to Patel's last years spent in Alibaug. Set up by a Mumbai-based architect Pinakin Patel, the museum's objective is to preserve the legacy of Dashrath Patel and his work as a contemporary of the Progressive Artists.
Afternoon
III. Cool Off And Explore The Jewish Legacy Of D Samson's Soda Shop
Where: Located between Alibaug and Poynad village
A monument to the Benne Israeli community that set up the villages in the area, Daniel Samson Digodkar established this iconic soda joint in 1938 after the local mills shut down. Today the place is run by his son, Daniel Sydney. It's where residents of Alibaug today get together to chat about world affairs or simply catch up with each other. And if you're a conversation-with-strangers kind of person, we'd definitely recommend spending a couple of hours here. If not, you can always just ask for a fizzy soda drink (pick from the large variety or dive into the rich ice cream soda) and enjoy the old-world charm of the place.
Cost: INR 15 each
Evening
IV. Alibaug Beach For Water sports
Perhaps one thing that Mumbaikars really miss out on is water sports. Despite living right next to the beach, one can't enjoy the benefits of the ocean. Moreover, it's not always possible to fly off to Goa. But the good news is that Alibaug beach has a great range of water sports to participate in. From the 'Banana Boat Ride' that takes you deep into the ocean and lets you swim around to a supervised jet ski ride that pushes all the right buttons to give you an adrenaline rush, Alibaug beach is a must-do as far as visiting this place is concerned. Make sure to not go after sunset as it's relatively unsafe.
Night
V. Seaside Dinner And Live Music At Boardwalk By Flamboyante
Where: Mandwa Jetty Road, Mandvi, Alibaug
A picturesque waterfront restaurant, the Boardwalk is located at the Mandwa jetty itself, between the bridge that takes you the boats and the parking lots. A restaurant that is almost too good to be true, the menu boasts of thin-crust pizzas, fresh salads, mezze platters, shawarmas and good old boardwalk burgers and fries. And finally, the makings of any brunch - a large bar, enough to hold and serve about 200 people. While the deck and the sea-facing area really is their mainstay, there is an indoor restaurant for those who need a respite from the scorching sun. Their maritime-inspired decor will make you feel right at sea, too!
Cost: INR 2,000 for two people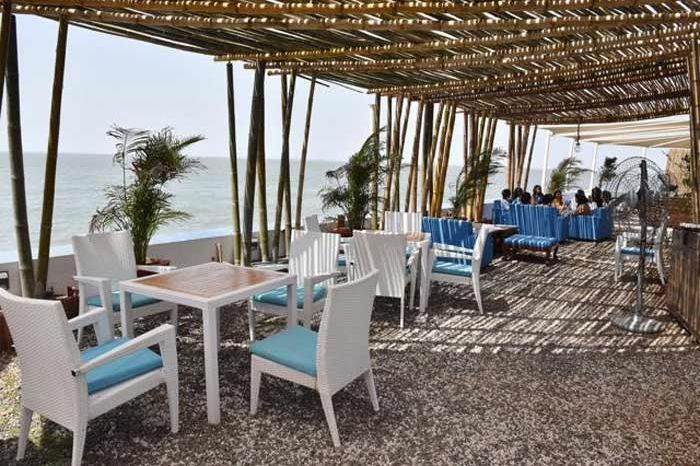 Day 2
Morning
VI. Take A Walk In The Native Biodiversity Garden
Where: Adjoining Teenvira Dam, Mumbai-Alibaug Road
Alibaug is full of places you can escape to when in need of some long-overdue quiet time. However, nothing compares to experiencing nature as closely as you can at the Native Biodiversity Garden, which is both experiential and educational. Begin your day by taking a walk in the garden and invigorating your senses. The garden is divided into several sections like sensory, medicinal, butterfly, wetland, etc. At the entrance, you can spot the ginormous 8-foot tall hand-carved Deepmaal that signifies the local custom of welcoming guests with lights. A wholly responsible initiative, the entire garden is solar-powered and aims to make use of renewable resources and promote the same level of awareness amongst all the visitors of Alibaug.
Timings: 9.00 a.m. - 1.00 p.m. and 2.00 p.m. - 4.30 p.m. on all seven days of the week.
Afternoon
VII. Hotel Sanman For Your Delicious Seafood
Where: Israil Lane, Opposite Chirag Executive, Alibaug
The 35-year old legacy of this restaurant simply proves that it is one of the best seafood serving joints in the region. Their Konkani-style fish preparations are to die for. You could try out their fish and prawn curries, but we'd honestly recommend diving into an entire thali, be it pomfret or surmai. It's the only way to discover the nuanced variety of Sanman's flavours. Weekends here are generally more crowded so make sure to go early and grab a table before the crowd arrives or simply order in. Hotel Sanman delivers throughout the town of Alibaug.
Cost: INR 800 for two people
Evening
VIII. Understanding The History And Heritage At Kolaba Fort
Where: 2 km from the shores of Alibag, towards the water
One of the oldest and grandest military fortifications in the area, Kolaba Fort is often also referred to as Alibaug fort and is surrounded by water on all sides. A deep dive into the history of the entire place, this fort is for anyone who wishes for some quiet time, serendipitous discoveries and more of the ocean. While we wouldn't exactly call it a 'trek', the walk to the higher parts of the fort isn't all that easy. It is full of steep steps, so make sure to wear sturdy footwear for the climb is definitely worth it. It is preferable to visit the fort during low tide as you can actually walk to it. Otherwise, you might have to resort to taking a boat.
Night
IX. Dinner at Bohemyan Blue
Where: Bohemyan Blue on Alibaug-Rewas Main Road between Chondhi and Zirad, Alibaug
With its cane furniture, wooden benches, colourful interiors and the definitive presence of a beach nearby, Bohemyan Blue feels a lot like a slice of Goa in Alibaug. Started by one of the founders of Nariyal Paani, this eatery serves everything from Thai cuisine to Lebanese delicacies and more. A laid-back, breezy ambience coupled with soft music to give you company, this place pretty much nails the bohemian vibe and we're here for it. Alcohol is missing from their menu but the food is truly remarkable. Some of the favourites of those who have visited include the raw pumpkin salad, fish in Mangalorean curry, and paneer roll. Each more delicious than the other!
Cost: INR 500 for two people
Where To Stay
X. Outpost
Where: Chorande, Mapgaon, Alibaug, Raigad
A unique boutique hotel experience in the heart of Alibaug, Outpost is meant to take you away from the cacophony of city life into a soothing rustic setting. With a refreshing spa as well as conference and meeting rooms for those who need to be on-call or are only visiting Alibaug for official purposes, Outpost's luxurious rooms, complete with wifi, laundry and other services are the perfect fit. There's also a meditation centre, a play area, a jacuzzi and a treehouse, making it a place that's as family-friendly as it is meant for solo and couple travellers. You can also opt for packages that include all three meals.
Cost: Rooms start INR 5,000 onwards
XI. Sidz Cottage
Where: Mandrekar Colony, Opp Nagaon High School, Naaon, Taluka, District Raigad, Alibaug.
Situated at a distance of merely 6 km from the main city of Alibaug, Sidz cottage, apart from its gracious hospitality services, boasts of an impressive kitchen as well. Authentic malvani cuisine is always available at this resort, for both vegetarians and non-vegetarians. "Sip Solkadhi for the soul. Try the crisp Bombil fry, Prawn sukkha or the Pomfret fry", says their website. You can choose to stay in Sidz villa, cottages or a bungalow. They have also have a grand breakfast buffet which is exactly what you need to kick off a beautiful day of relaxing by the beach. Or simply stay in and read in the gazebo or have your routine evening chai with other visitors. Also, the management at this resort is more than willing to guide you (in case the things in our guide aren't enough).
Cost: Accommodation prices start at INR 4,000
XII. Maooli Guest House
Where: At & Post Kihim, Mhatre Ali, Near Ekveera Mandir, Taluka Alibaug
If the luxurious albeit formal atmosphere of a hotel isn't something you're up for, you can head to Maooli Guest House which is located very close to Kihim beach in Alibaug. A great place with all the basic amenities along with homemade food, Maooli Guest House will help you not go broke in the two (or more) days you decide to spend here. And the best part - you can practically walk to the beach whenever you feel like it. No planning needed!
Cost: Rooms available at INR 2,000 onwards
If you enjoyed this article, we suggest you read:
Coconut Carving With An Artist In Alibaug
Organic Architecture Comes Alive At This Alibaug 'Mango House'
All The New Cafes, Boutiques, Events & More To Look Forward To In Goa This Season