Fashion, for time immemorial, has been a reflection of society's cultural temperament at any given point in time. From women (during the second wave of feminism) opting to sport what was then termed as 'masculine' in a successful attempt to claim agency to present day clothing trends bleeding through gendered boundaries, the Indian fashion industry is rightly pegged to be increasingly gender neutral. Today, it isn't out of the ordinary for a male Bollywood star to strut down red carpets wearing a skirt or a dutifully up-to-date fashionista to pose in a blazer borrowed from her father's closet.
Whether a genderless fashion showcase at Lakme Fashion Week, articles on men embracing conventionally feminine garb, or the country's judicial system taking monumental steps to propagate inclusivity, the Indian fashion industry is steering away from the archaic gender binary and shunning questions like "Can a girl wear this?" and "Is this a men's shirt?"
Often such fashion movements feel out of reach when we see them in movies and on runways. So how do ordinary Indians such as ourselves effortlessly incorporate androgyny into our daily lives? Where do we go when we too want to transcend gender roles? We at Homegrown have curated Indian fashion labels that have successfully managed to champion gender neutrality in their collections.
I. Kallol Datta
Whether it's the lack of gender as a defining element in Kalol Datta's designs or his passion for working with the most unexpected materials — unless it's engaging, it's just not good enough. "The interactions – with viewers, buyers and observers of my work is important to me because I don't think we have a dialogue existing in our region about progressive and thought-provoking clothing," says Datta. Known for their fluid silhouettes, Datta's designs seem to be conceptualised while keeping in mind the fabric and material and not the consumer's gender.
NorBlack NorWhite (NBNW) is a coming together of modern silhouettes and refined techniques of traditional Indian handicraft. Brainchild of Mriga Kapadiya and Amrit Kumar, NBNW is driven by the want to champion disappearing art forms by reinterpreting age old practices of textile design to fit modern-day sensibilities. Most of the pieces of clothing created by NBNW comprise unisex separates with no distinctions made with respect to prints, fabrics or silhouettes. This label allows people to reflect their true identity through their clothes and not be confined to cultural or societal ideas of what is "appropriate".
III. Anaam
Anaam's Sumiran Kabir Sharma's show 'The Last Supper' at Lakme Fashion Week's #GenderBender was a gender neutral take on Leonardo Da Vinci's painting of the same name. "The models I've cast have struggled with their own identities as trans, androgynous, and gender fluid people. They're misfits. So, when I thought of how to put them together as a performance art piece, I wanted them to be like a painting that was in a restoration process," said Sharma. His collection Behrupiya (many forms) is his attempt to reclaim identity through art.
IV. HUEMN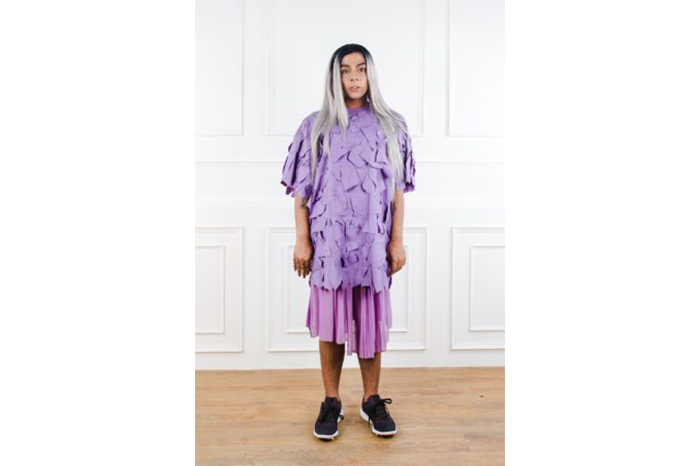 Having showcased multiple collections at Lakme Fashion Week with a considerably large number of followers and patrons, HUEMN is no longer the new kid on the block. However, they continue to stay relevant, fresh and exciting in everything they do and have carved a space for themselves, being one of the most distinct fashion brands in the Indian landscape.
At a time when gender seems to be the focal point of most pertinent debates across fields including fashion, Huemn decided to show its support towards gender diversity by including a non-binary section to its website. Even though the options included in this section are limited, it does not take away from the extremely important point founders Pranav Misra and Shyma Shetty have tried to make. The pieces of clothing included in the non-binary section include skirts, dresses, t-shirts, windcheaters and more.
Sanya Suri and Resham Karmchandani's label The Pot Plant's take on gender fluidity is an unconventional one. Their approach towards gender fluidity falls under the larger realm of sustainable fashion. While propagating the idea of minimising waste. "We put a '100% human' tag on our clothes to show that our clothes can be worn by any gender," said Karmchandani.The Pot Plant's vision is based on the idea that clothes can be shared, repeated, re-invented and should not be classified based on gender.
VI. Bobo Calcutta
Founder Ayushman Mitra, popularly known as Bobo describes himself as a 'lover of art, obsession and illusive modern expressionism, history and fashion'. His label is a reflection of his core belief of love being the basis of all things. "My clothes are inspired from my paintings. I want my clothes to feel like you're wearing a canvas on your skin… Art has no gender so, I make my clothes with that same thought," says Bobo.
Bobo Calcutta also contributed to Lakme Fashion Week's #GenderBender with an installation titled 'Ludicrous Legacy.'
V. Bloni
Like The Pot Plant, Bloni's approach towards breaking the gender binary is driven by the need to be more environmentally conscious. "Clothes are supposed to be easy to transform and have a spirit of fluidity. That's why my clothes are in black and white so they can be neutral in any setting," said founder Akshat Bansal while talking about his collection that was displayed at Lakme Fashion Week's #GenderBender. His collection included formal and informal pieces of clothing that can be sported by everybody irrespective of their gender.
If you liked this article, we suggest you read:
Exploring India's Drag Culture Through The Stories Of 6 Flawless Queens
We Spoke To India's First Plus-Size Trans Model About Inclusivity In Fashion
Indian Diaspora Artists & Labels Using Fashion To Reclaim Their South Asian Roots