To a traveller, India is a land of many things. Picturesque hill stations that once provided 'much-needed respite' to our colonial oppressors, an endless coastline dotted with commercially viable port cities and sandy beaches, captivating mountain tops that might seem insurmountable to some, vast patches of vegetation and a blazing sun make up this tropical destination. While explorers have pretty much mapped out this country, neatly dividing each region into its own cultural and culinary extravaganza, there are some travel treasures that continue to remain hidden and less traversed for unjustifiable reasons. Islands being one such gem.
India is hardly ever distinguished as a country replete with tiny less-explored islands perfect for those off-beat quick getaways (hill stations no longer make the cut). But in reality, we have plenty of isles, each different from another, that have recently transformed into habitable havens of solitude. From floating isles in the Northeast to the world's smallest river island, the Indian peninsula has a long list of hidden islands that have been relatively untouched.
I. Kakkathuruthu Island
The island of crows.
In the middle of Kerala's tranquil backwaters is a little island called Kakkathuruthu, known for its beautiful sunsets and even more mesmerising sunrises. Once a secret successfully harboured by the residents of Kerala, Kakkathuruthu is now internationally renowned for its magical experience, ever since the National Geographic included it in its 'Around the world in 24 hours' list. Enveloped in calming stillness, far from urban chaos, this island is located on the Vembanad Lake near Kochi and is named so because almost a century ago it was completely inhabited by crows. Today, however, it is a gorgeous tourist attraction. Although the crows still do tend to wake you up early in the morning. You can row down the lake in a vanji (boat), interact with locals, and take in the beauty of the island by simply being there. The Kakkathuruthu island also has a couple of eco-resorts that are decently priced and offer a great experience.
II. Umananda island
World's smallest inhabited river island.
Surrounded by Brahmaputra's undulating waters is a tiny rock outcrop that passes of as the world's smallest inhabited river island. Umananda island, located not far from Guwahati in Assam, is originally the home of the golden langur, and in recent years, humans too have found a place for themselves amidst the green canopy of trees that stand silently, witness to the myriad facets of human evolution. The island's history is a mix of blurry mythological tales and proved 17th century construction. Strangely, the island has stood the test of time like no other, remaining unaffected by the destruction in the aftermath of the Assam earthquake in 1897. An important pilgrimage centre, this temple island's unperturbed shores are a surreal experience, reminiscent of how they once survived a fatal natural calamity.
III. Phumdis
The floating islands of Manipur.
Circles of lush green vegetation floating on the Loktak lake, the largest freshwater lake in the Northeast part of India - locally referred to as phumdis, these patches are heterogeneous masses of soil, vegetation, and organic matter. While some are mere rings, others are more filled out and larger, with the largest one even housing an entire national park – Keibul Lamjao National Park, which is also India's only floating national park. In the past, fishermen used to shape the vegetation in rings to suit their fishing needs. However, no longer needing it, the vegetation has been allowed to grow wild and transform into entire ecosystems. A boat ride along the area is all you need to experience your feet sinking into the spongy, seemingly flimsy surface beneath your feet. But fret not, these floral floating islands have been successfully levitating for years.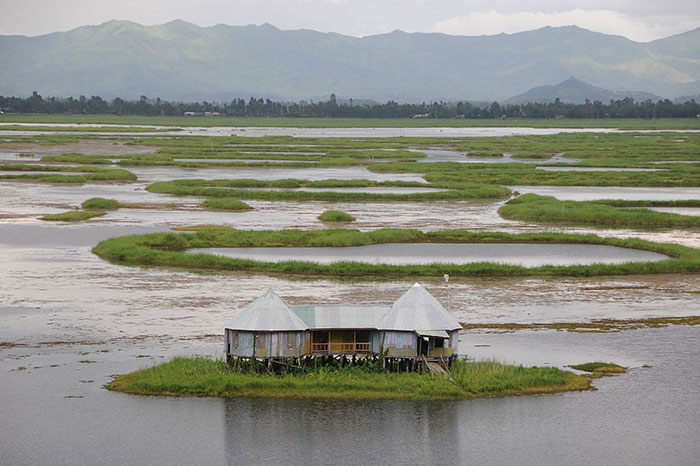 IV. Hope Island
The Guardian Angel to the nearby town of Kakinada.
A relatively new island that is a natural barrier against calamities for the people of Kakinada, Hope island's dense mangrove growth gives it an air of mysticism that is unlike anything you'd experience at any of the other islands. Formed from Koringa River's sediment outflow, Hope Island has a tiny settlement of just 400 families. This tadpole shaped island in the Bay of Bengal is run completely on solar power and has much to boast in terms of the solitude it offers, pulling the visitor away from the everyday hue and cry of the cities. A foot exploration around the island is guaranteed to acquaint you with the Olive Ridley Turtle, orange crabs and other organisms at the Coringa Wildlife Sanctuary.
V. Thinnakara Island
The coral wonder of Lakshadweep.
Punctuated by the desolate cries of seagulls perched atop the rocks and the soft roar of the waves, Thinnakara island, with its white sand beaches and coconut trees, is one of the two uninhabited tourist islands of Lakshadweep which people are still allowed to visit. Far from crowded, this coral island is ideal for snorkeling, scuba diving, or simply taking a ride in the glass boat. Few visitors can be spotted here but that's exactly what constitutes the charm of this place. In fact, the skies are as beautiful at the vastness of the ocean that surrounds the Thinnakara Island and you might just catch yourself falling asleep while trying to decipher the constellations in the night sky. Thinnakara is a quick ride away from the Bangaram Atoll.
VI. Srirangapatna Island
Travelling back in time.
The island of Srirangapatna is for the history lover, especially one who doesn't mind unwinding by the waters, with the sound of the waves as they crash against the rocks, and an earthy whiff emanating from its glorious post. An island perched on the waters of Cauvery, Srirangapatna has always been devoid of that mystical, exotic charm associated with river islands. It's accessibility has been it's only selling point and has worked for many years. With a fascinating religious history and heritage monuments that will certainly pique your interest, this island can be accessed via the Bangalore-Mysore highway that runs through it. From the teak wood exteriors of Daria Daulat Bagh to the abandoned residence of a colonial officer, visiting this island is like immersing yourself in a sea of India's cherished heritage and culture.
VII. St. Mary's islands
Basaltic rock formations of India.
Off the coast of Malpe in Karnataka is a set of four islands known for their basaltic rock formations that stand tall, towering over the deserted sands of the island. Mostly unknown and for reasons that are quite understandable, St. Mary's islands are known for their unbelievably azure waters and tranquillity. This uninhabited island treasure has its own bank of really interesting stories of how and when it was discovered – it was Vasco da Gama, many say. But it's hard to tell. Visiting this island is an adventure of its own, one that only lasts through the day as the island has no accommodation facilities and one must return to the port of Malpe, near Udupi, before the day ends.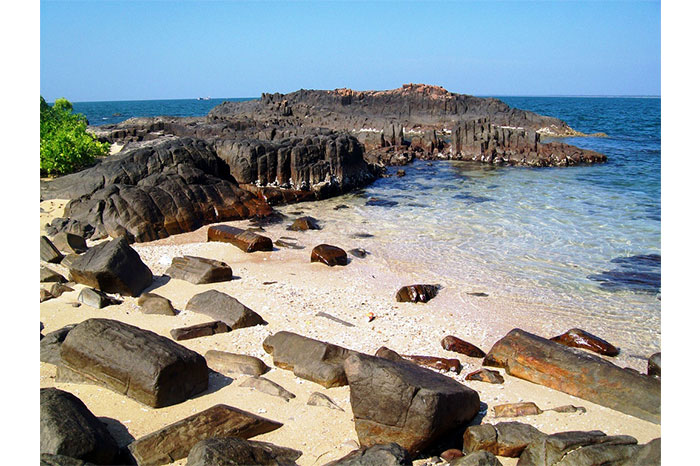 VIII. Netrani Island
Diving into crystal clear waters.
Rich in marine life like sea urchins and turtles, Netrani island is Arabian sea's little treasure located close to Mangalore in Karnataka. Adorned with beautiful coral reefs and stunning crystal clear waters that let you peek into the underwater world of many beings (with the visibility extending to almost 30 m. below water), this island is a great place to scuba dive – regardless of whether you're beginner or not. The island is sometimes also known as Pigeon island. It is interesting to know, that until 2012, Netrani island was being used as a training spot for the Indian army.
Feature Image Courtesy: Indiamart.com
If you enjoyed this article, we suggest you read:
5 Vineyards Across India For Your Next Weekend Getaway
Seven Countries Where The Rupee Is Stronger For A Pocket-Friendly Vacation
Head To These 7 Homestays Across India For A Taste Of Permaculture Living