We've been watching the gradual wave of sustainability take over the urban landscape of India. From clothes swapping events in various cities to up-and-coming vintage fashion suppliers to independent designers who are trying their best to promote ethical practices, the progress is huge and we should all be patting each other's backs for it. However, within the furniture space, sustainability continues to remain a fat-fetched reality. Or rather, a less acceptable one. As Gregory Barreto very correctly puts it, "There seems to be a misconception that repurposed/upcycled furniture means finding something abandoned on the side of the road - it's not!." And he couldn't be more right.
Gregory Barreto, founder of Barreto Outdoors – an eco-friendly boutique furniture store – spent his childhood growing up in nature's lap, which left him fascinated with forest and wildlife in ways many of us can't even imagine. From wildlife photography to learning how to become a scuba diving master in the Andamans, working in tandem with nature has always been an intrinsic part of his personality. A philosophy deeply ingrained in his psyche from a very young age; it's only natural that Gregory's passion project would be a sustainable and responsible choice for the environment today.
But it wasn't until he began using his carpentry skills to make furniture for a few of his close friends that he recognised the potential for something much bigger. His friends loved his style, especially how he spent so much time in sourcing wood and other materials that were different. Moreover, Gregory seemed to enjoy it more than anything else and that's probably what urged him to begin his experiments with Barreto Outdoors.
A craftsman with a passion for creating functional art in the form of sustainable furniture, Gregory's designs are unique in terms of both the materials he uses as well as his concepts. From using repurposed neem, sheesham and other woods to recycling wine bottles and scrap metal, he is known to be quite innovative with his designs. The first piece ever that he made for a client was spectacular — a chandelier made from unusual rustic elements like an old tonga wheel and recycled bottles. Similarly, most of Gregory's designs borrow from nature in unexpected ways.
Some of Barreto Outdoors' most popular pieces include the Live Edge Acacia slice tables — which display a lovely contrast of blues and greens against the earthy colours of the wood. Their Blue Lagoon table, which is made out of an old log of Indian Satinwood that was naturally hollowed out by termites is awe-inspiring in how naturally it fits into an urban setting despite having such an unglamorous origin. Each piece is a testimony to Gregory's true artistic craftsmanship and the humble origins of Barreto Outdoors.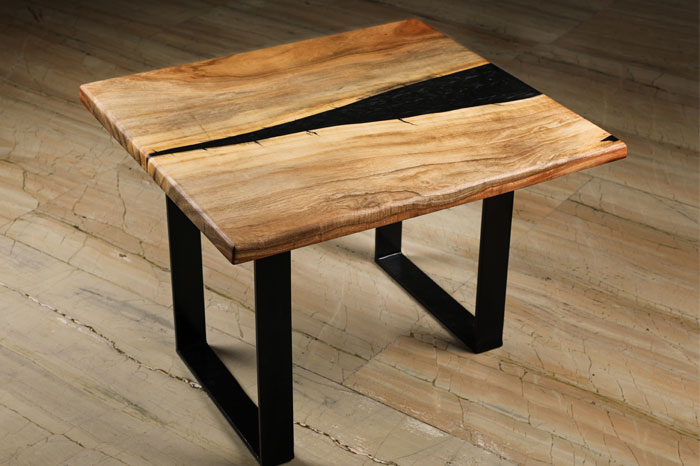 In a country like India, bespoke furniture is only now coming to light and is still not as easily available. At Barreto Outdoors, their objective is to bridge this gap and do so in a sustainable way. "Our use of eco-friendly materials and the ingenious combination of wood with resin is something that is very new to India", he tells Homegrown. But making a conscious choice to not use the regular wood also means twice the effort in sourcing material that does not impact the environment. "I specifically go to a couple of local mills that I have found in the outskirts of Delhi that stock and primarily sell fire wood. I also look for metal at scrap yards where I can reuse leftover materials from construction and other sources", says Gregory.
However, Gregory still struggles with how furniture is perceived as a "disposable commodity" in India as opposed to something that is far more long lasting, almost an heirloom that can be passed down from one generation to another. "An advantage of handmade furniture is that it actually has a longer life cycle than mass produced items, so in the long run one ends up buying less furniture", he explains.
But Gregory is hopeful about all the things that make Barreto Outdoors different from other furniture sellers in the market. Whether it's his intuitive selection of wood, design elements inspired from nature, or bespoke craftsmanship — Gregory is proud to be one of the few pioneers within the space of sustainable and responsible home decor. And can't wait to continue experimenting in more creative ways in the future.
Gregory is currently based out of Delhi. However, you can purchase Barreto Outdoors' designs on Etsy by clicking here.
If you enjoyed this article we suggest you read:
Innovative Handmade Multifunctional Furniture That's Inspired By The Human Spine
Spin – The Indian Furniture Brand That Heroes Minimalism