Gone are the days when a generic Soan Papdi box or a Christmas cake would be passed around from hand to hand until it reached the first person in the link herself. People and their methods of life are gradually becoming more and more intentional and they are realising that every purchase has a larger consequence. Gifts can either become objects of awe and inspiration or can be long remembered or forgotten – for their own reasons. All said and done, the bottom line is that it is necessary to find something that says the right thing and above all, is genuinely meaningful and useful. The quest for the perfect gift – the shining box with just the right bow, just the right packaging, and just the most useful, intentional, sustainable, fashionable, affordable, and loveable item inside – is still on and by the looks of it, with the innumerable permutations and combinations, is going to be on for a little while.
Right at this moment, however, allow us to help you pick just the right gift and present to you the century's biggest gifting guide.
From artisanal alcohol to upcycled fashion, this intentionally curated list of 100 homegrown brands features the best of all worlds.
While it might help to know that perfection is a myth, the quest to perfection is a beautiful journey, you will get to know.
Food & Beverages
1. All Things Chocolate
True to their brand's name, All Things Chocolate specialises in premium cocoa products. You can customise your gift box choosing your favourite from their Spiced Chocolate Mix, Cocoa Cappuccino and Chocolate Bars.
Order your own gift box here.
Check out their Instagram here.
2. Araku Coffee
For your coffeeholic friends and family, Araku has a range of different types of homegrown coffee as well as everything you could possibly need to make it to perfection – get their festive boxes for an extra special treat.
Take your coffee pick here.
3. Bombay Sweet Shop
Everything in India is incomplete without lots of mithai. Send away or bring home some much-needed sweetness with Bombay Sweet Shop's specially curated assorted sweet boxes.
#HGLoves Bombay Sweet Shops's personalised mithai boxes.
Take your sweet tooth here or order via Zomato and Swiggy.
4. Bombucha
Bombucha produces small batches of various artisanal fermented food products like Kombucha, Coconut Water Kefir, Ginger ale, Sauerkraut, Kimchi, ACV Drinks, and lacto-fermented pickles.
#HG loves their Kombucha Hibiscus Lime.
To find more Bombucha products, click here.
Check out their Instagram here.
5. Bono Ice Cream
Nobody ever said no to a tub of exquisite ice cream! Bono offers mouth-watering flavours such as white chocolate passion fruit, dark chocolate Italian truffle, blue cheese honey, and milk chocolate bacon.
Get your fix through Swiggy or Zomato.
6. Brew House
A refreshing glass of cold brew iced tea is sure to get you energised for the festive season.
#HgLoves Brew House's Diwali Gift Hamper which consists of five of their best brews – Classic Lemon, Classic Peach, Forest berry, Blueberry and Mojito Lime. Priced at just ₹225.
Get your perfect brew here.
Check out their Instagram here.
7. Brio Art House & Cafe
Brio Art House & Cafe', founded by Ankita Jaiswal, showcases an exclusive collection of handmade, hand-painted and nature-inspired art-pieces, along with a curated range of home linen, decor, kitchenware and furniture, both online and offline.
#HG loves their Bamboo Planter and Beeswax Candle Stand.
Check out their website for innovative gifting ideas.
Check out their Instagram here.
8. House of Tea
We all have friends or family members who absolutely can't stay without their daily cup of tea. Gift them House of Tea's versatile range of handpicked luxury tea range.
Check out the different varieties of tea here.
Check out their Instagram here.
9. Kati Patang
Brewed with pure Himalayan spring water and made using all-natural malts and hops, this Bhutan brewed Indian craft beer has an unforgettable flavour.
#HGLoves Kati Patang's Zesty Amber Beer loaded with all-natural malts and aromatic hops.
If you would like to know more about the brand, you can log onto their website, or stay tuned to their Instagram page.
10. Mason & Co
Who doesn't love a good chocolate? Organic, Vegan and Farmer Direct – Mason & Co's Bean To Bar Chocolate Range is the perfect gift to give your friends who love everything chocolate.
Order your box of chocolates here.
Check out their Instagram here.
11. Naagin Hot Sauce
Throughout and thoroughly homegrown, Naagin hot sauce is the perfect gift for someone who loves their extra spice.
#HGLoves Naagin Bhoot, the extra hot variant of the sauce that is made with Bhut Jolokia (ghost pepper) from Assam.
If you would like to know more about where to get your hands on the sauce, you can read about it in our story on Naagin Sauce.
Check out their website for some extra heat.
12. Natch Snacks
One who likes to keep snacking simple would never let go of packets of Natch Snacks, thanks to their reminiscent as well as never-heard-before flavours that are offered in the healthiest manner possible.
Mix and match your snack basket here.
Check out their Instagram here.
13. No. 3 Clive Road
Gift No. 3 Clive Road's Diwali Blend's luxury hand-blended tea that is local, ethical, and herbal and is the perfect gift for those who love to indulge in a good cup of tea.
You can order your cuppa here.
Check out their Instagram here.
14. Sepoy & Co.
India's only homegrown botanical range of mixers, Sepoy & Co. does away with the highly commercialised artificially flavoured and sugary waters to introduce exquisite mixers like Hibiscus and Elderflower, Mint, Ginger Ale, and Grapefruit.
Choose your mixers here.
Check out their Instagram here.
15. Soklet
For that chocolate-addicted friend of yours, Soklet's tee-to-bar chocolates, hot cocoa, and chocolate-hazelnut spreads are more than enough. You might even have to hold them or yourself back once they dive into the goodies!
Get your Soklet fix here.
Check out their Instagram here.
16.Subko Coffee Roasters
Every coffee-lovers' wonderland, Subko Coffee gives you a coffee tour of India and lets you choose from the country's different flavourful roasts. Discover some more born-in-the-pandemic companies here.
Fulfil your Subko coffee cravings here.
Check out their Instagram here.
17. Svami
If you love the taste of cocktails but want to skip on the alcohol, Svami's range of non-alcoholic ready to drink beverages are the best gift. Enjoy your Rum & Coke without the stress of a hangover.
Get your drink here.
Check out their Instagram here.
18. Stranger & Sons – Perry Road Peru
A collaboration between The Bombay Canteen and Stranger & Sons resulted in the perfect fruity gin cocktail, capturing Mumbai's essence and also perfect to sip through the festive season – Perry Road Peru. Find out more about how Stranger & Sons dominates homegrown Gins, here.
Get your hands on the limited edition Gin here.
Check out their Instagram here.
19. Terai Gin
A 'grain-to-glass' Indian craft gin made in Rajasthan in the style of a London Dry Gin, Terai is the chicest kid on the block. Choose it for its eclectic taste and its aesthetically vibrant design which draws on Indian temple architecture, numismatics, and handicrafts.
Find Terai on Instagram here or log on to their website here.
20. The Perch Diwali Hamper
Take snacking to another level and indulge in spreads that include the in-house red wine and grape Violet mustard, chunky roasted peanut butter, and jelly spread. It is also accompanied by a variety of cheeses and an assortment of olives, jalapenos and apricots, and of course, breadsticks (and wine, if you want some!).
Pick up your hamper from Perch, Bandra or contact +91 9820893375 to customise.
21. The Spotted Cow Fromagerie
It's always a Brie good idea to get together and share some warmth and love. The Spotted Cow Fromagerie curates special artisanal premium quality cheese boxes to gift you the perfect festive experience.
#HGLoves The Gather & Graze Box with Brie, Tomme De Bombai, and loads of accompaniments you can nibble on while chatting away with your friends and family.

Indulge in them here and check them out on Instagram here.
22. TEAXPRESS
For all your cuppa-loving friends, TEAXPRESS brings prolific curations of premium quality teas imported fresh each season, direct from tea gardens around the world.
#HGLoves TEAXPRESS's Tea O'Clock Collection which includes round-the-clock tea blends, each with a unique trait.
Order your warm cuppa during the winter months, here.
23. 4700BC Popcorn
We know you would much rather have this delicious snack even outside the movie theatre, so, get your fix of uniquely flavoured popcorn from 4700BC, especially their sour cream and wasabi cheese (and make sure to keep some aside for yourself before you share!).
Indulge in a range of lip-smacking flavours here, and check out their Instagram here.
Beauty
24. Bare Necessities
From dental care to food wraps and cutlery, Bare Necessities has an alternative eco-friendly option for every plastic-based everyday item.
#HGLoves The Ultimate Zero Waste Starter kit for a friend seeking to live life more consciously.
Obsess over them here.
You can check them out on Instagram here.
25. Disguise Cosmetics
As India's first indie cosmetic brand, Disguise outdoes itself with each new product.
#HGLoves their new range of vegan lip shades and Diwali deals that are perfect for gifting the festive season.
Check them out here.
Check them out on Instagram here.
26. FAE Beauty
For the festive look we all crave, FAE's line of products are a must for Indian skin – cruelty and paraben-free, made especially for the lovely, wonderful South Asian skin. Find out more about one of our #HGDrop pick here.
Explore FAE's collection here.
Check out their Instagram here.
27. Hibiscus Monkey Diwali Pataka Box
Packing in the wisdom of your Nani's age-old secrets in their chemical-free and vegan self-care line of hair oils and spray on oil, Hibiscus Monkey's Diwali Pataka Box packs in this goodness with Pawnees teen patti cards and Karachi Halwa Gummies.
Get their range of skin care products here.
Check out their Instagram here.
28. Ilana Organics
Offering specific products for specific skin-type, Ilana's range of vegan and cruelty-free products find the perfect balance between natural sources and modern ethics.
#HGLoves the gorgeous all-natural water-based beetroot lip and cheek tint.
Find the limited edition Glam Up Diwali hamper on their website and check out their Instagram.
29. Juicy Chemistry
Harnessing the power of nature, Juicy Chemistry brings to you the goodness of nature and traditional cosmetic knowledge in its chemical-free luxurious offerings.
To know more about the brand, head over to their website or stay tuned to their Instagram.
30. Kiro
Vegan, cruelty-free, skin-friendly, and specially designed for Indian skin, look no further to present the perfect festive look to your friends or amp up your own glam.
Check Kiro out here.
Check out their Instagram here.
31. Neemli Naturals
Allowing you to gift handmade, vegan and cruelty-free products, Neemli makes for a marvellous all-around skincare package. Find more of HG's suggested organic bath and body products here.
Check out Neemli's collection here.
32. Pahadi Local
Packed with the goodness and freshness of the Himalayas, Pahadi Local's skin and hair care products are the perfect self-care gifts. Enjoy their all-natural products as you give back to the Himalayan people. Find more organic skincare here.

Fulfil your Pahadi needs here.
Check out their Instagram here.
Fashion & Accessories
33. Alankaara
Beautiful keepsakes that remind one of the wonderful cycle of life, Alankaara's fossilised jewellery and home decor made with real botanicals sourced from around the world, make for the perfect gift.
Buy their jewelleries here.
Unearth their treasures here.
34. Annahmol
Inspired by the serenity of Kerala and the rawness of vintage textiles and semi-precious stones, designer Annah Chakola's Annahmol brings exceptional curations of handcrafted jewellery, clothing, bags & accessories to make for a perfect little present.
#HGLoves Their Unity Pendant.
Find out more on their website and check out their Instagram here
35. Badaam
With Badaam, you can gift handmade sarees and clothing that go beyond seasons. Their unique styles and patterns are sure to floor you.
Graze through their collection here.
36. Bhavya Ramesh
Bhavya Ramesh's jewellery is a bohemian collective of handcrafted silver jewellery carefully designed to embrace gypsy souls and free spirits.
#HG loves their Earrings and Nose Pins.
Shop for their jewelleries here.
Check out their Instagram here.
37. Capsul
For streetwear that keeps up with the times, Capsul is your go-to. As a multi-brand streetwear store that curates a range of products that are conversation starters, they give the Indian consumer access to some of the best streetwear in the world.
Find more HG-suggested streetwear labels here.
Shop their products here.
Peep into their Instagram here.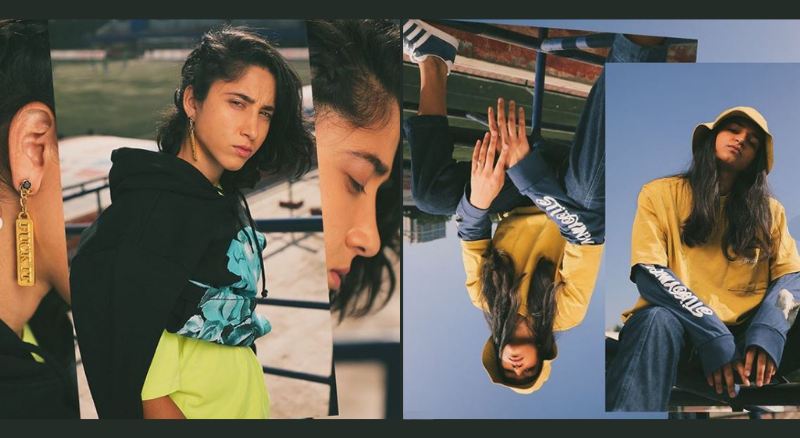 38. Dandelion
What's better for a gift than the perennial uniform – nightwear? Gift your friends and family the cutest PJs from Dandelion. Also, find their impeccably curated gift sets for all your homely cravings here.
If you would like to know more about the brand, head over to their website.
Check out their latest sleepwear on Instagram.
39. Dhora
Bringing together the traditional beauty of Rajasthan and modernity of Italy, Dhora produces accessories that not only elude style, but also complete any look. Find more contemporary jewellery companies here.
Explore Dhora's collection here.
Check out their Instagram here.
40. Delhiwear
With a collection that takes pride in Indian culture, Delhiwear's work from home wear, business casual wear and t-shirts are perfect for the Indian youth. Here's their complete story!
Shop their looks here.
Check out their Instagram here.
41. Grain
Combining artisanal skills with sleek looks, Grain produces fashionable and classy bags that are sure to impress whoever lays their eyes on them.
Find out why Grain was an #HGDrop pick here.
Glance over their collection here.
42. Huemn
Known for their narrative-driven curation and unwavering consistency in visual-composition, HUEMN's swiftly-switching silhouettes are a treat to own, wear or even flaunt. Get their limited edition offerings here.
Read more:HUEMN's Latest Limited Edition Drop Mirrors Charles Bukowski's Non-Conformity On His 100th Birthday
If you haven't already, stalk them on Instagram here.
43. JODI
If it's conscious luxury fashion, it has to be JODI. Working with natural Indian textiles, hand block printing, and modern designs, the brand has made a place for itself in the Indian fashion world.
#HGLoves JODI BAZAAR which curates handcrafted lifestyle products from across India.
To know more about the brand, head over to their website or stay tuned to their Instagram.
44. Leah Singh
Designer and founder Leah Singh works directly with artisans in villages across India using embroidery, weaving, and printing techniques that are native to the region. Her collection features handcrafted textiles that mix traditional Indian craft techniques with unexpected color combinations, and modern, geometric forms.
#HG loves their New Blah Blah pillows.
Check out their collection here.
Take a look at their Instagram too.
45. Manjha
Intricately and carefully designed with love, Manjha lays out options of all kinds of jewellery, sarees, dresses, scarves and now even masks – the beauty of India conveyed through a complete look!
Explore their collection here.
For the latest posts and updates, follow them on Instagram.
46. OINK
Oink provides a one-stop shopping experience where all your loved ones can shop together live. Moreover, you get to find your favourite brands here.
#HG loves their bags and body care products.
Check out their website here.
Check out their Instagram here.
47. Op-Haneen
Cop your ultra-cool shirts and outerwear at Op-Haneen – their bold prints and modern designs do not disappoint.
Buy your Op-Haneen tees here.
Peep into their collection here.
48. Perthro Jewellery
Combining fashion, art, and heart, Perthro embodies urbanity and translates its conversations into artisanal statement pieces.
Read more about Perthro's concept jewellery here, here, and here.
Check out their Instagram here.
49.
50. RIAS Jaipur
Explore the beauty of Dabu and Bagru crafts as they fuse together with modern culture to offer the best of both worlds.
#HGLoves Rias's initiative to #SaveIndianTextile and their most recent turmeric-dyed 100% cotton face masks.
To know more about the brand, head on over to their website, or stay tuned to their updates on Instagram.
51. SIX5SIX
Defining streetwear for those who choose to embrace it, SIX5SIX translates Indian youth culture into fashion – a must for those who blend comfort and style. Find out here why they were our #HGDrop pick.
Cop your favourite products from their collection here.
Check out their Instagram here.
52. Skilled Samaritan
Skilled Samaritan is a company that focuses on waste reuse and upcycling plastic waste to transform and develop plush designer products using multilayer plastic and textile waste. Their craftsmanship revolves around the creation of charpai – a multifaceted intricately woven piece of furniture, commonly associated with siestas, conversations, social gatherings and even childbirth. Their chief motivation is centred around creating sustainable livelihoods by recycling plastic waste by skillfully keeping it within the bounds of the economy instead of the environment.
#HG loves their 'Love Note In A Box' gift hamper.
Shop here for the most amazing goodies and hampers.
53. Sui
Dress up in comfort while being sustainable with Sui's incredible range of conscious, well-crafted and thoughtful clothing.
Check them out here or find them on Instagram.
54. Sole Stories
Inclusive, sustainable, ethical, artisanal, conscious and fashionable – everything we want our footwear to be, and all that a thoughtful gift must be!
Pick your handcrafted footwear here.
55. Space Biskit Masks
Space Biskit is a multidisciplinary art and design studio founded by Shruti and Harsha Biswajit in 2017.
#HG loves their face masks.
You can shop for their products here.
Check out their Instagram here.
56. Suta Bombay
Love sarees but want them to have a playful twist? Making age-old saree modern and fun with frills, tassels, pom pom and ruffles is Suta Bombay whose wide range of casual sarees range from soft solid mulmul to patterned jamdani.
Drool over their collections here.
57. Tailor & Circus
India's first body-positive unisex underwear brand, Tailor & Circus loves you as much you love it. Customise the perfect pack of these for your chuddie-buddies here.
Read as Homegrown talks about India's First Body-Positive, Unisex Underwear Brand Is Making Its Presence Felt.
Keep up with them on their Instagram here.
58. The Saree Sneakers
Deep down, we know you're tired of putting your feet through a challenge in heels every time you wear a saree. The Saree Sneakers fixes that with comfortable, complementary and beautifully designed sneakers to complete your perfect ethnic look.
Get your hands on a pair here.
59. The Sole Sisters
Inspire some soul-searching and find your perfect soul with The Sole Sisters's hand-crafted, hand-picked footwear.
To order or view their catalogue, write to them at: [email protected]. Find them on Instagram here.
60. The Yarn Story
Started a year ago by image consultant, Sayali Khade and nutritionist, Ila Potnis, The Yarn Story is a modern textile studio, weaving carefully selected yarn fibres into soft and premium fabrics. The company makes contemporary clothing and dabbles in hand-woven and natural fabrics, from block prints, Kalamkari prints, Ikat and tie-and-dye.
#HG loves their red and blue-tinted dresses.
Check out their collection here.
61. Wunderhaus
Kedar Maddula's Wunderhaus that explores Indian textiles, craft and fashion does away with gender-specific clothes and ensures flattery for everyone. Find out about their journey here.
Look through their collection here.
Home Decor
62. Cane Concept
Giving you the sustainable home decor goodness, Cane Concept's various lifestyle products are functional, sturdy and definitely easy on the eyes.
Check them out here.
63. Imarim
Founded by mother-daughter duo, Riti and Maanya, Imarim is a studio that transforms old home items into beautiful pieces of decor.
#HG loves their Lotus Pond Kettle.
You can shop on their website here.
Check out their Instagram here.
64. Iki
With products that can only be described as little concrete craft pockets designed with joy, Iki creates contemporary products such as attractive coasters, adorable showpieces and minimal pen stands.
Marvel at their products here.
65. Minimal Indian
Minimal India is a concept home decor label based out of Bangalore, started by Adrita Sarkar and her husband Chintan. The label draws its inspiration from the time of simplicity and authenticity and is meant for every home that carries the nostalgia of simpler times. For the ceramics, Adrita works with studio potters in Bangalore, who prepare the bisque fired pieces. Believer and practitioner of minimal lifestyle, the label makes home textiles as well.
#HG loves their mix-and-match tapas plates and pinch bowls.
Check out their stuff here.
66. Pulp Factory
Founded by Spriha Chokhani, Pulp Factory is a design studio that creates furniture and other home décor products out of discarded paper.
#HG loves their red Tote Bag.
Shop from their collection here.
Check out their Instagram here.
67. SAFOMASI
Safomasi creates beautiful fabrics, homewares and accessories with a soul and a story. Travelling the world to find inspiration, each collection celebrates a journey to a different region.
#HG loves their rugs and fabric.
You can shop for their products here.
Check out their Instagram here.
68. Saphed
Give your loved one a chance to spruce up their living spaces with Saphed's… everything! With a range of duvets, sheets, tablecloths, curtains and even loungewear in store, Saphed has got you covered.
Glance at their collection here.
69. Spin Furniture
A subdivision of the Shark Design Studio in Delhi, this young, fresh furniture brand is capturing Nordic sensibilities with Indian identity. Their designs are catering to the modern generation that wants to declutter without compromising on luxury.
#HG loves their curated bundles.
You can shop for their products here.
70. Studio JIWE
Inspire or get inspired by art with a purpose as Studio JIWE brings to you timeless, earth-friendly, handcrafted stoneware products made by artisans across India.
Explore on Instagram here.
71. The Plated Project
The Plated Project does theme-based vibrant and artistic plates in collaboration with NGOs and artists in an attempt to end hunger among children. Their beautiful plates are a wonderful gift for your friends and loved ones especially those who love collecting art pieces.
Check out their themed plates here.
72. Tiipoi
With equipment that is sure to spruce up your kitchen and make cooking more exciting, Tiipoi has a remarkable collection of kitchenware - their latest Masala Dabba in collaboration with Diaspora Co. is one to keep an eye out for.
Look through their remarkable products here.
73. Yours Concretely
Yours Concretely is a designer home décor brand by India's first female Concrete Product Designer – 'Poorva Ajmera'. It also brings you charming products – like wall and table clocks, planters, lamps, trays, candle holders etc to add a chic touch to your living and working spaces.
#HG loves their elegant, pebble-shaped candle holders.
Check out their Instagram here.
74. White Hill Studio
Look no further than White Hill Studio to put together the perfect handcrafted curation of ceramics this year. The nature-inspired handpicked assortment of gifts are sure to add the much-needed cheer and bonding experience to your Diwali celebration.
Find them here.
Experiential
75. Cards for Humanity
Architects Saloni and Hiren Ganatara's Cards for Humanity is a social game for the 'new normal'. In translating kind deeds and introspective activities into a deck of cards, the game targets the core need of giving back in the smallest yet most rewarding ways.
#HG loves their 'A Social Game For The New Normal'.
Read what Homegrown has to say about them here.
Get your deck of Cards For Humanity here.
76. The Thought Co.
The Thought Co.'s Self-Care Box. is a curation of tools often used in therapy with the clients of the company. Each box contains 5 types of activities that are rooted in cognitive-behavioural and mindfulness techniques that are designed to work with your thoughts and actions. Thereby enabling you, through repeated practice, internalise healthy thought patterns and behaviours.
#HG loves their 'Get To Know Me' box.
You can check out their Thought boxes here.
77. VAWAA
At VAWAA, you can enjoy an immersive experience. with master artists and craftsmen around the world. From learning creative writing with an award-winning writer in Hanoi, wooden toy making in Buenos Aires, film photography in Norway to cooking in Penang, there's a VAWAA for everyone.
#HG loves their 'Vacation with an Artist" residency workshop.
You can check out their website here.
You can follow Vawaa here.
Art & Design
78. Art & Found
A brand that seeks to uncomplicate art, Art & Found offers a way for people to find unique artwork for their all their spaces, suited to their taste and budget.
To read more about the brand, read Art & Found's 15 For 15th: A Perfect Guide To Buying Indian Art For Your Home
79. Join Paper Planes
Paper Planes is a media brand with an online publication and e-commerce platform that celebrates thoughtful design and living.
Check out their online shop here.
80. Kulture Shop
Kulture Shop is a collective of Indian graphic artists spearheading an art movement to redefine our visual identity for the 21st century.
#HG loves their Wall Art and Fashion Accessories.
Check out their website for more of their art.
Check out their Instagram here.
81. Origin One
Founded by New Delhi-based multi-hyphenate design and art professional, Pushkar Thakur, The Graflosi is a multi-award winning studio of design and art. The studio's creation, Origin One, is a collection of everyday stationery and basics made for the design-loving global nomad. With a mix of artisanal and machine-made techniques, the design-led product range balances functionality, durability and fine quality with a unifying contemporary aesthetic.
#HG loves their Artisanal Makers' Box.
Check out their website here for innovative goodies & gift hampers.
82. Studio Joyeeta
Kolkata entrepreneur, Joyeeta's art venture, Joyeeta Joyart is a beautiful fusion of doodle, artistic forms, and a bright amalgamation of vibrant yellow, red, black, solid strokes of blue and come in personalized forms on mugs, notebook covers, bags, brooches, accessories, home décor, and large wall paintings.
#HG loves their 'Soul Sisters' painting.
Check out Studio Joyeeta here.
Check out their Instagram here.
Sustainable Gifts
83. Armateur
Armateur Design Studio employs men and women from marginalised communities to create earth-friendly inventive decor, candles and furniture. They use traditional craft and raw materials to create designs unique to Armatuer.
#HG loves the Berry Shimmer hand Dipped Candles from their festive collection.
Shop from their website here
84. Bamboo India
Bamboo India, founded by agricultural entrepreneur, Yogesh Shinde, is a company that makes bamboo-based eco-friendly products like bamboo toothbrushes, speakers, clothing pegs, desk organizers, utility stands and sky lanterns.
#HG loves their Natural Bamboo Razor.
Shop from their website here.
85. BOHECO
Helming the hemp revolution in India, BOHECO has a hemp alternative for everything. From health and nutrition to clothing, accessories, yarn, and fibers, the brand's unique offerings will make for the perfect gift basket.
To know more about the brand, read Indian Companies Using Hemp In Ways You Wouldn't Expect
86. Brown Living
It's a marketplace for a wide range of everyday products, specially curated for a sustainable, vegan, chemical-free and zero-waste lifestyle. Each product is handpicked from ethical brands across India, after having its environmental impact evaluated. Moreover, they also stock an entirely plastic-free product range to promote a chemical-free, carbon-neutral, and plastic-free shopping experience. In a measure to promote an inclusive environment, the organisation works mostly with enterprises run by women from marginalised communities, artisans and specially-abled people.
#HGLoves their Diwali hamper.
Shop here for their gorgeous products.
Check out their Instagram here.
87. Ecoware
Founded in 2010 by Rhea Mazumdar Singhal, Ecoware is a one-stop-shop for eco-friendly products that are 100% natural, biodegradable, and easily affordable. It converts common crop waste into sustainable alternatives.
#HG loves their Wooden Disposable Knife
Shop from their collection of sustainable wares here.
Check out their Instagram here.
88. Oorjaa
Founded by lighting designer and founder of The Purple Turtles, Radeesh Shetty and Jenny Pinto, Oorjaa is a design studio that handcrafts sustainable material into beautiful lamps.
#HG loves their Dandelion Pendant Lamp.
You can check out more of their stuff here.
Check out their Instagram here.
89. PHOOL
Co-founded by Ankit Agarwal to clean the Ganga in Kanpur, PHOOL uses flowers from temples across India, and creates useful products such as rose incense cone, Phool vermicompost etc. Through this endeavour, around 11,060 metric tonnes of temple waste has been recycled till now.
#HG loves their Phool Natural Incense Sticks – Oudh
Check out their shop here, and their Instagram here.
90. Silaiwali
Providing fair employment and support to Afghani refugee women, Silaiwali up-cycles waste fabric generated from apparel scraps to create handcrafted decorations and awe-inspiring dolls. The dreams realised through these dolls and decorations make them even more special.
If you would like to know more about the brand, read how This Indian Social Enterprise is Training Refugee Women to Make Dolls From Fabric Waste
Find more here.
91. The Burlap People

The perfect sustainable option for a gift-set, The Burlap People's Diwali hamper contains Mogra Tea by Ahista Tea and 3 tea samples, incense sticks collection by Phool, Ceramic Cha Khuri from Sienna, a Tiny Acre Broccoli Microgreens Grow kit, Burlap Coasters and a Bag for Life tote! Look through more of Homegrown's backpack suggestions here.
Find The Burlap People here.
92. Verth Box
'Verth Box' is India's first eco-friendly and zero plastic subscription box. It is a bi-monthly delivered box, curated with five-six handpicked eco-conscious products from sustainable brands and homegrown artisans. With products ranging from daily essentials to accessories, our aim is to embed sustainable products into the lives of men and women, making it both accessible and affordable.
#HG loves their November Wellness Box
Check out their shop here, and their Instagram here.
93. 21 Fools
Divyanshu's 21Fools is India's biggest manufacturer of plantable seed paper and seed paper products. On this Diwali, to combat the rising pollution and deforestation, they have rolled out crackers 'Beej Patakha' that grows into a plant. With this new offering, 21fools aims to give a new perspective to this festival. Other than this, you can also find here plantable rakhi embedded with seeds, seed paper cards, seed paper calendars etc.
#HG loves their Beej Patakha.
You can shop from them here.
Unconventional Gifts
94. The Big Book Box
Introduce or re-introduce someone to the joy of turning pages and churning stories by curating special book boxes for them at the Big Book Box.
Explore how here.
95. Champaca Book Subscription
If you want to give a thousand lives to someone, give them books. Gift the Champaca Book Subscription to send your friends a parcel of carefully curated, specially chosen books containing translations in their mail every month for 3 months to one year.
Find more about them here.
96. Notcoy
Go old-fashioned and send your friends and family the perfect little pocket of love in a relatably funny, minimalist greeting card.
Find Notcoy here.
97. Rekha Goyal
Rekha Goyal is a ceramic artist whose studio creates a boutique range of handmade tableware in ceramics.
#HG loves their Water Art tiles and Wabi Sabi mugs.
You can shop for their products here.
Check out their Instagram here.
98. Rubberband

Minimal, modern and sleek lifestyle products like stationery and some furniture designed with thought seems like the perfect addition to a household. The pop of colour is just there for a bit of life! Look through more of Homegrown's suggested stationery stores here.
Shop Rubberband's products here.
99. Say It With A Pin
Pop culture encapsulated in pins, earrings and cufflinks – just the gift for your ramen-craving, all-for-quirky-catchphrases and pride-loving loved one! Read here to find out how the company came to be.
Take your pin pick here.
100. TICP Playing Cards
The TICP Playing Cards are specially designed playing cards in white and Navy Blue.
#HG loves their TICP White Playing Cards.
You can check out the White Playing Cards here.
If you liked this article, we suggest you read:
Diwali Gifting - 50 Unconventional Indian Homegrown Brands
10 Lovely Subscription Boxes That Make Amazing Gifts
11 Unique And Sustainable Diwali Gift Ideas For Everyone In Your Life